By Isabel F. Peñuelas on Jan 04, 2015
With the advent of the New Year it is difficult to determine which technological innovations will create the higher impact: Drones, BitCoins, 3D scan and printing, Connected Cars, Connected Vending, Skin Wearables, Deep Web, Programmatic, Digital Signage or the re-emerging of Artificial Intelligence are some on the Top. Digital Teams in charge of Corporate Innovation are watching it all, but are also exploring, learning and applying new development approaches with high impact on the way they work. I want to turn my eyes to the ideas that will have a larger impact on the working style of those teams during 2015.
Lean Principles
Lean is a movement transforming how new products are built and launched. As Tim O´Really has stated "The Lean Startup isn't just about how to create a more successful entrepreneurial business...it's about what we can learn from those businesses to improve virtually everything we do…It's ultimately an answer to the question 'How can we learn more quickly what works, and discard what doesn't ".
Despite the NYT Best Seller The Lean Startup was written in 2011 by Eric Ries with a focus on startups and entrepreneurship, the movement hasn´t stop growing and invading new territories. This year the digital departments of a significant numbers of big corporations will adopt Lean as part of their Digital DNA. Lean is not only about startups, Lean is about how to innovate as a startup.
Toyota, the leading lean company in the world described Lean in 1990 and has inspired Ries´s book. Several other big companies worldwide are applying the same principles. As Tim O´Really summarized at Strata Europe 2014 Conf: "Lean Startup Principles apply to every Real Word Service". Also as Ries explains, Corporate Innovation is not about buying a few startups, nor about hiring a few entrepreneurs to rethink the company with their new eyes and working style, but about changing the company context so creativity can emerge from the company employees.
During 2015, a big majority of Digital Teams launching new digital services will apply Minimum Viable Product approaches and iterate through several and fast development cycles. Eric Ries defines MVP as "That version of a new product which allows a team to collect the maximum amount of validated learning about customers with the least effort." MVP is the product with highest return versus investment and is typically deployed to a minimum set of customers known as early adopters. It is all about faster and cheaper failing and involving the customer into the product design cycle.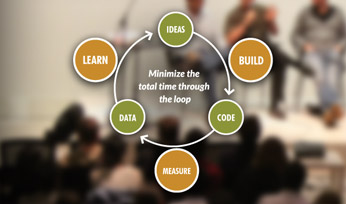 Design Thinking & Human Centered Design
Designing for the People and by the People is an idea close to Lean. The Design Thinking process first formulated by Tom Kelly from Ideo has the Iteration flow in common with Lean Methodologies, but there is a particularity in the approach that is not part of Lean but clearly complements it. Behind the "Designing for One Person" idea is the assumption that to achieve a deep understanding of the customer you need to think about a particular person. Trying to design for everyone will end up in designing for no-one.
Digital Teams, in charge of Corporate Innovation, will bridge Lean Cycles to Human Centered Design applying Design Thinking tools as Empathy Maps, Personas, Storyboarding and others for designing the value proposition of the new digital services.
Building on Platforms
Digital is about Openness: Most of the emerging digital services capturing customer attention are built on Platforms. As a recent example, the Taxi Sharing Uber, paradigm of the Collaborative Economy, builds on Bing Maps, Mapbox, BrainTree Payment Solutions and Twilio VOIP APIs [Source: O´Really [1]).
Had you figured out that the Taxi Industry or Productivity Application makers would partner with Media during 2014? We'll explore How Uber and Spotify and Evernote and The Wall Street Journal plan to partner during 2015. APIs support the new partnerships we see every day.