EEE PC Chronicles, Episode 1
A laptop that is smaller than most hardback books?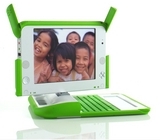 I have seen and used the famous OLPC XO (One Laptop Per Child) machine. But I really cannot see myself carrying a Barbie-doll accessory. Eee PC, by ASUS, has a more mainstream design. The new 900 model has 20GB flash memory. Yes, this thing has no internal moving parts and is absolutely quiet. So I ordered one for 3,900MB (and an external optical drive for 800rmb). This baby has a 900MHz Intel CPU, 1GB of memory, and 20GB of flash drive. It also has a built-in wi-fi, webcam, speakers, 3 USB slots, an SD slot, and an Ethernet plug. Seems pretty complete to me.
I charge it over-night and booted it up. The Xandros Linux, a version of Debian, boots up in "easy mode" — a tab-based desktop that is reasonably complete but frustrating to a Unix guy like myself. I needed to run Firefox with profile that that require a command-line interface. The secretive (really simple documentation) "Control-Alt-T" sequence opens a terminal window and solved these problems.
Wireless connection is almost automatic. It has already found my access point. I clicked connect, entered the WEP key, and started surfing.
Tried skype next. Wow, someone I knew was online. She activated the camera, so I did too. Soon, I found myself conversing with someone 6,000 miles away, in video too. Pretty cool.
The keyboard is cramp for my fat fingers and the touchpad is too slippery.
I can get used to this. Stay tuned. <script language="JavaScript"> TagStart() Technorati("EEE PC") TagEnd() </script>