Traceroute For A Bobble
I am appealing to the 'net for help in solving what has become a family mystery. Cross-posted to
my sports blog
as well, because I'm looking for any reasonable clues. And yes, I got the idea from Clay Shirkey's
Here Comes Everybody
. Not as exciting as a misappropriated cell phone, but perhaps of more interest to baseball nerds of all ages.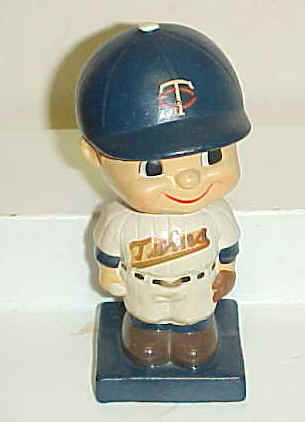 During 1960 and 1961, a series of 15 bobble heads were made representing 12 Major League Teams and 3 Pacific Coast League teams. They are made of a (now) brittle plaster or soft clay/ceramic mixture, much denser and more poorly weighted than today's acrylic bobbles. Some time during the late 1960s, an aunt (I think) gave this Minnesota Twins bobble to me as a gift, probably to appease me as I sat bored in her living room on a day when it was too muddy or rainy to play outside. It sat on a shelf for the better part of 15 years, then in a drawer, has been moved twice, and has remarkably few dings or chips.
I have no idea how it ended up with my family. I have four theories: (1) someone visited the Twin Cities in 1961 and got this as a stadium give-away, which seems unlikely for a variety of reasons; (2) a visitor from Minnesota brought this as a gift for one of my cousins, and my aunt gave it to me after it sat on his (or her) shelf for half a decade, which is somewhat less unlikely; (3) they were sold in other Major League ballparks, and a cousin bought it on a summer outing, with it ending up in my hands much in the manner of my previous idea or (4) the distributor or manufacturer tried to leverage local Topps distribution and left a sample in my grandfather's general store (the source of my pasteboard empire in the day), and my uncle (who worked in, and later owned the store) brought it home, where my aunt passed it along to me.
Option (4) makes the most sense, as my sole recollection of the bobble is getting it at that particular aunt's house, and nobody (that I know of) had family west of the Delaware River, let alone the Big Muddy. If we were getting in the car to visit, it was a trip to the deli and perhaps the beach, but not a baseball game in Minneapolis.
If you know any of the backstory of the 1960-1961 colored base bobble heads, leave a comment. I'm looking for data on how they were distributed or sold, how a Twin ended up on the right coast, and how to trace back the route of a giveaway item that now has totemistic value in my family.