VirtualBox: Running other OSes & sharing files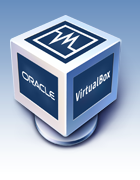 As you may know the free VirtualBox software allows you to run almost any operating system as an 'application' on your current operating environment.
I recently installed VirtualBox on Windows 7 RC and wanted to share files between OpenSolaris running in VirtualBox. Searching Google revealed that the share files facility for OpenSolaris as a guest is a newly supported, and I could not find a quick or easy solution through the SMB or "Places->Connect to a server" route.
Here is how I achieved it:
> Share your files in Windows by right clicking and follow the UI (I shared "My Documents" as "Documents&quot

> Select the VirtualBox menu "Devices->Shared Folders"
> The folder path should be formatted as
\\\\MYPC\\Documents
> The folder name I used
Documents
> Then in a terminal type: (I created the /export/home/me/Docs directory first)
pfexec mount -F vboxfs Documents /export/home/me/Docs
> The folder should now appear on your OpenSolaris desktop and in the filesystem views

Enjoy