On a telephonic conversation with my parents, a week back or so, when I conveyed to them about my journey to Delhi for a training on the week of India Independence Day, I could feel a pause and then a sigh of anxiety on the other end. They had every reason to be anxious, especially after a series of unfortunate events like serial bomb blasts, unfolding itself in some of the well-known places in India. Some one else advised, before I set out my journey to Delhi this week, to try and keep myself away from all crowded locations on the day, when India would celebrate its 62nd
Independence Day
. As an Indian, it isn't encouraging, having to celebrate the country's freedom with a mind that's not completely free from fear. And it's unfortunate that the situation is such as above and that many wouldn't know whom to point the finger at for such a sorry state of affairs.
Having said all these, it's no doubt a matter of pride, remembering India to be the motherland of some great
visionaries
, whose
inspiring words
are reasons for solace and hope for all of us. And with our country finding its way to the list of
Gold Medal Winners
in the
worlds biggest stage for sports
, one would only be hopeful to see such fabulous stories of human achievements repeating itself for our Nation and that all of us would continue to strive for such perfect accomplishments in our respective fields that includes but not limited to Arts, Agriculture, Science, Sports, Spirituality and Technology, placing India among the top contributors to the world in all aspects mentioned above. Wouldn't that be a reason to feel proud of our Nation and hold its flag flying high? Well and truly yes and so be it.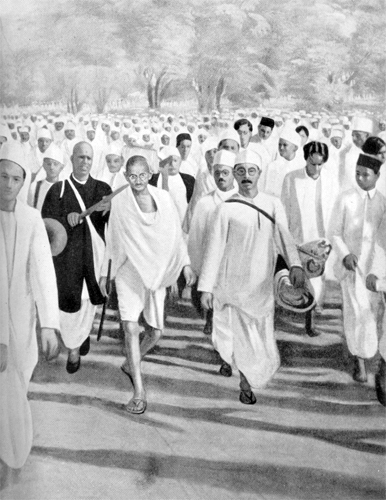 On a day as this, it isn't sufficient to look forward to a promising future, but would also be appropriate to sit in retrospection, remembering the heroic deeds of thousands of Freedom fighters, paying them tribute at least in thoughts. Honestly, I have never been able to feel with my heart any amount of pain while reading about the freedom struggle in India! Their pain, their struggles, only they knew. People like me who is living in an era much forward to the pre-independence period cannot even touch one dimension of the pain that the freedom fighters went through to gain Independence. The magnitude of sufferings of many Indians during the course of fight for freedom is indeed hard to imagine. All I can say is, I'd be gasping for breath if I walk a few kilometers at stretch, I'd be wanting for food if I starve for a day, leave alone
marching 240 miles on foot
,
fasting for weeks
and that too not for any selfish reasons, but for the sake of generations to follow, which is you and me. It's very clear, they weren't ordinary men, who fought for our freedom, but brave souls, who lived and died for a noble cause. It's
their
victory that we celebrate today, saluting them mentally for all the heart-throbbing chapters that they wrote in the Indian History
Lastly, before I leave this space, I would wish to mutter under my breath, the words of
Gurudev
, which I feel is no less significant in an era that we live in. In fact, it is more appropriate to utter this prayer in this present age:
"Where the mind is without fear and the head is held high

Where knowledge is free

Where the world has not been broken up into fragments

By narrow domestic walls

Where words come out from the depth of truth

Where tireless striving stretches its arms towards perfection

Where the clear stream of reason has not lost its way

Into the dreary desert sand of dead habit

Where the mind is led forward by thee

Into ever-widening thought and action

Into that heaven of freedom, my Father, let my country awake"
Let's all
Celebrate the India Independence Day
with a heart full of gratitude and respect towards all those who devoted their entire life for the freedom struggle and with a pledge as neatly expressed by one of my mentors in his reply to my Independence Day wishes, "Every citizen of this nation, I believe, should think and work on those lines to take this great nation to its cherished destination devoid of poverty, unemployment and other evils afflicting society."
Jai Hind
.