Sony PSP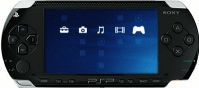 I spotted this beauty on Guarulhos (the São Paulo airport) two weeks ago, and immediately fell in love with it. It was playing Spiderman II, and the screen was amazingly good, 480x272 pixels and crystal clear. Really jaw-dropping!
I've been thinking about buying a portable DVD player, so I can watch movies and make time pass a bit faster when I travel or commute, but the PSP would also let me listen to music and play games (and surf the web when I'm at home). Very compelling package!
The only downside is that they use the Sony proprietary UMD disks so I won't be able to write my own. However, you can store data on Memory Stick (PRO) Duo which means that I can rip my existing DVD collection and watch it on the PSP.
At the moment I haul up my Acer Ferrari 3400 to watch movies or work while I'm stuck on a plane, which can be a bit of a pain when traveling in coach, as it is quite a bulky computer and there isn't much space between me and the seat in front of me. The PSP I can keep in my pocket, but I won't be able to hack away on Solaris on it though
[Technorati Tags: Games]