A look back on seasonal trends, email activity and standout B2C marketing:

Start to finish: The first reference to Christmas was on July 10. The final reference was on Feb. 9.

The biggest day for Christmas emails was Dec. 18. Retailers sent the majority of their Christmas-themed emails after Dec. 2.




Most interesting emails: The holiday season is a time of straightforward deal-making and discount-promoting. But some retailers took a breath every now and again to promote something out of the ordinary—whether to entertain, inspire or surprise. For instance, in a Nov. 27 email, Urban Outfitters promoted an amusing piece that imagined what Kermit the Frog and other fictional characters would like for Christmas.



View this email full-sized.

A Nov. 27 CB2 email alerted subscribers to the trend of DIY alternative Christmas trees, showing subscribers some new creative ways to use their products.



View this email full-sized.

In a Nov. 28 email, Northern Tool included a banner promoting their gift wrap for men. They've promoted it in past years, but it's still fun and I bet they have more than a few takers.



View this email full-sized.

Nearly the bottom of a Dec. 1 email, the Sportsman's Guide highlighted some beef jerky ornaments. Promoting strange and unique products can inspire additional social sharing and provide a little "wake-up slap" that makes subscribers pay more attention to your content.



View this email full-sized.

A Dec. 5 Bed Bath & Beyond email contained perhaps the most delightful animation of the holiday season, with a gingerbread man promoting an electric shaver. Here's the email…



View this email full-sized.

…and here's the animated portion of the email: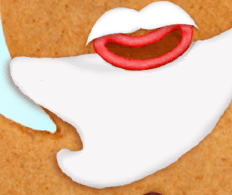 At the far end of the whimsical spectrum for Walmart, in a Dec. 14 email they promoted Frank the Fruitcake.



View this email full-sized.

And finally, during the holiday season many retailers create branded snowflakes and Christmas trees, but the tree in this Dec. 19 NikeStore was the most inspired one that I saw. Surprising, athletically aspirational and very on brand for Nike.



View this email full-sized.

Noteworthy trend: The 2011 holiday season saw the rise of the "promotional gift card," which were offered by American Eagle, Dell, L.L. Bean, Williams-Sonoma, and others. Since they have an expiration date, essentially these are just coupons for X dollars off a purchase. I would advise retailers not to call them "gift cards" as it's misleading, but I'm not aware of any consumer backlash against them.

For a discussion of five other holiday email marketing trends, check out my Email Insider column, Holiday Season Email Marketing Highlights.

Standout subject lines:
ShopNBC, 10/11 — How long until Christmas? Here's a hint...
Target, 11/9 — Fun fact: The Toy Catalog has coupons worth $300.
Lowe's, 12/14 — Build Your Own North Pole. Save up to 50% on Tools
Brookstone, 11/14 — Put "relaxing" on your holiday to do list
Yoox, 11/15 — Welcome to the Yooxmas Party - Gifts for Her
Foot Locker, 11/16 — It's Beginning to Look a Lot Like Kicksmas with Free Shipping on New Shoes!
1-800-Flowers.com, 12/14 — Save 15% Sitewide - Forward to Friends, Family and Santa too!
Lands' End, 12/21 — Christmas delivery with express shipping - on Dasher, on Dancer, on Procrastinator
SmartBargains, 12/21 — Wait! You forgot a gift for… You.
J. Jill, 12/24 — Now, Dasher! Now, Dancer! Now 25% off sale!
Lowe's, 12/26 — Holiday Fun Leaves Holiday Mess -- Tidy Up & Get Organized Today

Subject lines that stand out for the wrong reasons:
Lands' End, 12/18 — 8 days to Christmas, 2 fun ways to save: 40% off your order + free shipping
This email, which arrived in the morning, incorrectly counted the days till Christmas. It was 7 days till Christmas, not 8.

Read previous Christmas Season Finales: 2010, 2009, 2008, 2007, 2006

Explore Christmas tag.
_____________________
BROWSE... Archive / Post Categories / Selling Seasons / Topics Covered / Retailers Tracked