>>Retail Email Guide to the Holiday Season 2011: Download the 51-page report for free now.

The Retail Email Blog monitors the email marketing campaigns of more than 100 top online retailers. Here are highlights from my inbox this morning:

Sephora, 7/25 — New! Sephora for iPad.
While more than a few retailers have now dedicated a whole email to promoting their iPhone apps, this Sephora email is the first that I've seen dedicated entirely to promoting an iPad app. Like Sephora's previous iPhone app email (see Oct. 25, 2010 AM Inbox), this one does a great job of highlighting content options. Plus, Sephora incentivizes the app download with an online promo code for a free product.




NFLshop, 7/25 — Back To Football! Free Shipping On Orders Over $75 + Check Out The New Site!
NFLshop has relaunched their website, notifying subscribers of it in this email. The pun on "back to school" was eye-catching, but the above-the-fold portion of the email falls a bit flat. It's not immediately clear from the hero image what's new. You have to scroll down past that to learn that there are "bigger product images," "bigger descriptions," etc. A better approach would have been to list out the improvements beside the hero image as a lead-in for the boxes further down. But best approach may have been to mimic Staples' website relaunch email (see Dec. 15, 2010 AM Inbox). Since all the listed improvements have to do with product pages, why not show a product page and circle or box improvements?




J. Jill, 7/25 — Save up to 65%--over 375 styles.
Retailers throwing tons of product images into a grid to demonstrate variety is nothing new in email design. But J. Jill freshens up the execution with animation that playfully highlights a few of the products in the giant grid. There are lots of design memes like this that are crying out for a new twist.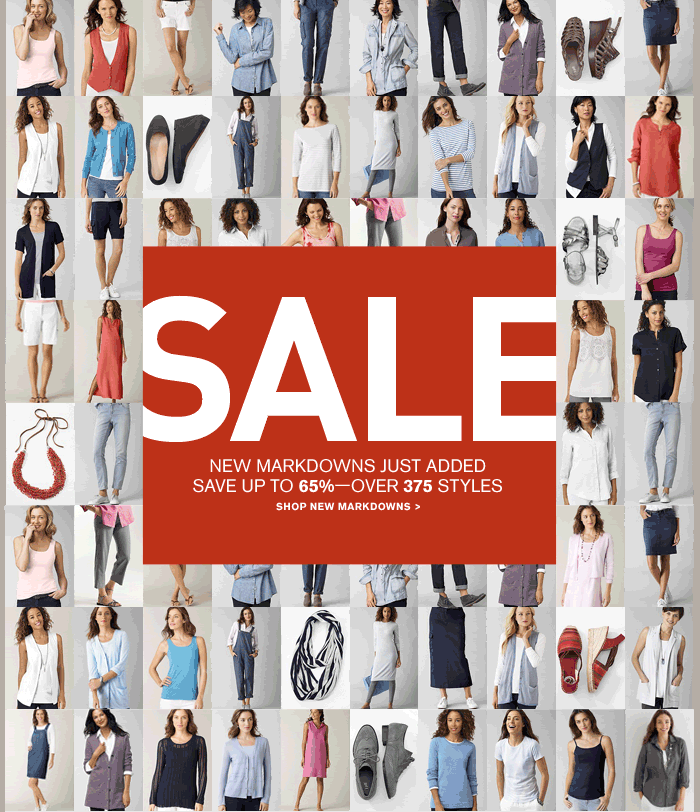 SUBJECTIVITY SCANNER: Select noteworthy subject lines
Barnes & Noble, 7/25 — Christmas in July! 15% Off Coupon Ends Today - Save on Great Gifts
TigerDirect, 7/25 — Christmas in July Sale: $5 Samsung Bluetooth...$249 New 500GB PC...$329 New Dual-Core Laptop...$49 New TomTom GPS...$79 New 19" LCD
Toys "R" Us, 7/25 — One Day Cyber Sale! Up to 20% Off LEGO, Step2 & More, Mon., July 25!
Eddie Bauer, 7/25 — Standout Tops + Campus Essentials.
Buy.com, 7/25 — Adobe DISCOUNTS just in time for Back to School
Foot Locker, 7/25 — Last Chance to Save 20% Online on Your Back-to-School Needs!
Kmart, 7/25 — Find savings on denim + school uniforms 20% off
Bloomingdale's, 7/25 — New Jeans for Him & Her
Bass Pro Shops, 7/25 — Bass Pro Shops 48 Can Wheeled Cooler only $14.97!
Coldwater Creek, 7/25 — Keep cool...Take 40% off!
Art.com, 7/25 — 25% Off Entire Site - In honor of notable Artists Birthdays!
SmartBargains, 7/25 — Open: Big message inside this email…
Staples, 7/25 — Open now and choose your coupon!
_____________________
BROWSE... Archive / Post Categories / Selling Seasons / Topics Covered / Retailers Tracked