The Retail Email Blog monitors the email marketing campaigns of more than 100 top online retailers. Here are highlights from my inbox this morning:
Home Depot, 7/26 — Get $5 Off $50 + The Download on Fresh Outdoor Projects
Long-time readers know that my favorite use of animated gifs is to demonstrate a process or function. In this Home Depot email, they use animation to demonstrate how you can makeover an outdoor space, with the final frame including three numbered callouts that correspond with products featured further down in the design. This is a smart use of animation.
And here's the animated portion of the email: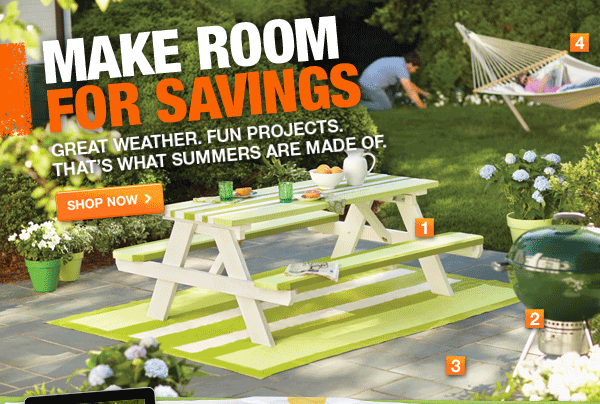 SUBJECTIVITY SCANNER: Select noteworthy subject lines
Walmart, 7/26 — Go Team USA! Cheer and save on HDTVs, gear & party essentials.
ShopNBC, 7/26 — Win with McDonald's + ShopNBC at 2012 Olympics
Blair, 7/26 — Don't forget it's Christmas in July and shipping's free.‏
Sam's Club, 7/26 — Save on Hewlett-Packard Gear for School, Now at Sam's Club®
Saks Fifth Avenue, 7/26 — In full color: Men's jeans for fall
_____________________