The Retail Email Blog monitors the email marketing campaigns of more than 100 top online retailers. Here are highlights from my inbox this morning:

Home Depot, 3/8 — Want a Gorgeous Lawn? It's a Snap! Find Out How.
In this email, Home Depot distills a product video down to three key frames and then uses an animated gif of those frames as a call-to-action to view the video. Animated gifs and their more sophisticated cousins, video gifs, are the closest things to reliable video in the inbox that marketers have. So it's logical to use animated gifs as video CTAs, but it's something that I rarely see. I would definitely recommend testing it.

At the bottom of this email is also a reminder about Daylight Savings, which is this weekend. Home Depot uses it as an opportunity to promote smoke detectors, which is a common item to connect to Daylight Savings. Barnes & Noble, Brookstone, Cabela's, and J&R also promoted Daylight Savings, with the latter reminding subscribers to check their smoke detector batteries and fire extinguishers, back up their data, and make sure their emergency car gear is up-to-date.

Here's the Home Depot email…



View this email full-sized.

…and here's the animated portion of the email: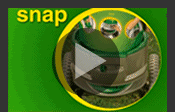 Coldwater Creek, 3/8 — All New Arrivals: $30 Off $100 & FREE SHIPPING!
Here's a friendly reminder to check the rendering of your emails across all the major inbox and browser combinations and to consider doing a coding audit of your email template. I see these kinds of image border issues routinely.



View this email full-sized.

Blue Nile, 3/8 — Explore Our Recently Purchased Diamond Ring Gallery
Ignoring the fact that the subject line could easily be misread that Blue Nile recently purchased a diamond ring gallery, I like that they are surfacing this gallery, which they've had on their website for a while now. People want to know what other customers are making, whether it's a customized product like a Blue Nile ring or a pair of NikeID shoes or a completely original creation like the pieces on display in Canvas on Demand's Customer Showcase. A selection from galleries like these can be converted into email banners to inspire subscribers to customize or create products of their own.



View this email full-sized.

SUBJECTIVITY SCANNER: Select noteworthy subject lines
Barnes & Noble, 3/9 — 15% Off One Item - Save on More than Daylight
Sam's Club, 3/9 — Save on VIZIO TVs - just in time for College Hoops
eBags, 3/9 — Arrive in style - 20% off Spring Break Travel Gear + Free Shipping!
Walmart, 3/9 — Get outside! Free shipping to your store on bikes, pools, swings & more.‏
Lands' End, 3/9 — As Hawaiian as the ukulele
Nordstrom, 3/9 — Tory Burch Beckons You to the Beach
CB2, 3/9 — hyde your stuff: tons of clever storage ideas.
Williams-Sonoma, 3/9 — Exclusive All-Natural Brownie Mixes - Indulge Today!
Kohl's, 3/9 — Nominate young volunteers for a Kohl's Cares Scholarship! Top winners receive $10,000.
Hallmark, 3/9 — Break out the Christmas pics for our latest card contest.
_____________________
BROWSE... Archive / Post Categories / Selling Seasons / Topics Covered / Retailers Tracked