According to Flexera 2020 State of the Cloud Report, 93 percent of enterprises have a strategy and 87 percent have a hybrid cloud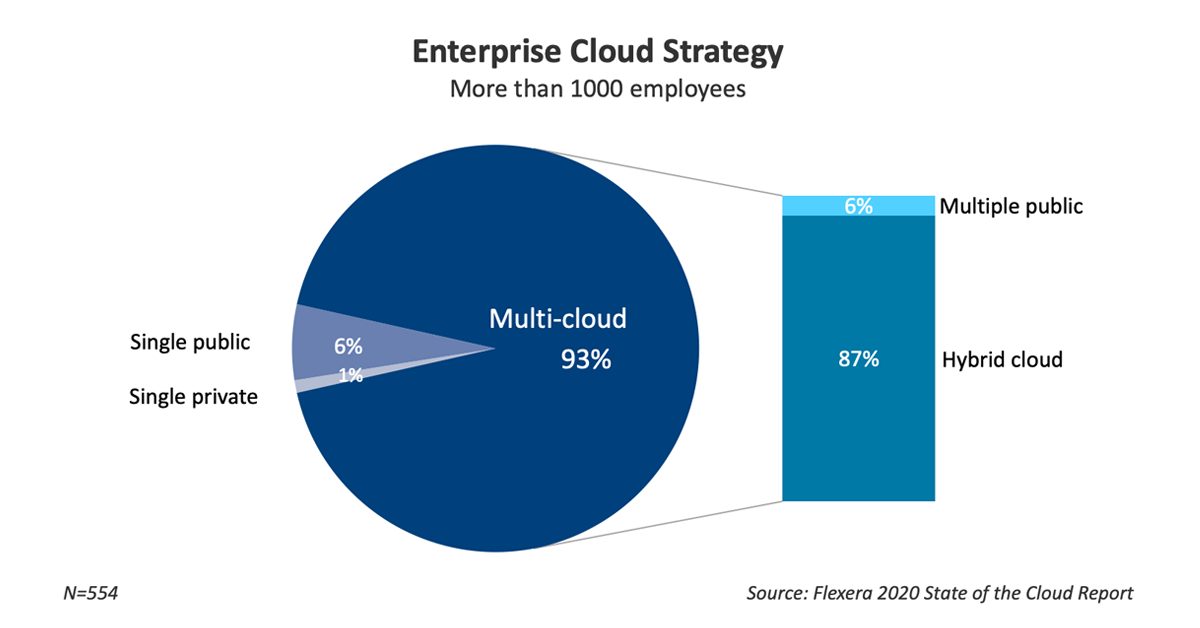 Research from the Enterprise Strategy indicates that 78% of organizations run different Linux distributions in the public cloud than they do on-premises. his can mean different management tools, different , different support contracts, and even different levels of patching and security compliance. The same ESG study shows that two-thirds of surveyed organizations regularly move workloads between public clouds, but find these migrations painful because of the differences in technology stacks, and the resultant issues with performance, security, availability, and in-house skills. ()
When running Oracle Linux on premises or in clouds, customers have access to the exact . Oracle Linux improves performance of all workloads and is optimized–out of the box–for Oracle software. Oracle Linux is 100% application binary compatible with . Since 2006, Oracle Linux has been completely free to download and use. Free source code, binaries, and updates. Freely redistributable. Free for production use.
Oracle Linux in Oracle Cloud Infrastructure
Oracle Linux is available . Updates are freely available from the local OCI yum server so downloads are faster and no network charges are incurred. Oracle Ksplice provides zero-downtime updates and in Oracle Cloud Infrastructure. In addition, Oracle offers Oracle Autonomous Linux instances in Oracle Cloud Infrastructure. Autonomous Linux provides a self-patching, self-tuning runtime environment that helps eliminate complexity, and increase security and availability. Visit Oracle Linux for Oracle Cloud Infrastructure documentation to learn how to run
Oracle Linux in Microsoft Azure
For Microsoft Azure, Oracle offers certification and support for
Oracle Linux in Amazon Web Services
For Amazon Web Services (AWS), Oracle offers support for Oracle Linux running in Amazon Elastic Compute Cloud (EC2) and Relational Database Service (RDS). Customers can create their own Amazon Machine Images (AMIs) or they can obtain Oracle-provided Oracle Linux AMIs from an Amazon EC2 console by searching for the owner ID 131827586825 and deploying the Oracle Linux images on Amazon EC2 and RDS. For details, please refer to this technical article on how to find the Oracle-provided Oracle Linux AMIs and launch an Oracle Linux instance using Amazon's EC2 console.
Oracle Linux support in public clouds
Customers with Oracle Cloud Infrastructure (OCI) subscriptions receive at no extra charg For Authorized Cloud Environments such as or Azure, customers receive the standard entitlements and support services associated with their Oracle Linux Basic and Premier Support contracts. Oracle Linux support subscriptions can also be used to support a customer's existing Red Hat Enterprise Linux (RHEL) or CentOS Linux instances.
Resources