Using the Oracle E-Business Suite SDK for Java on ADF Applications - The AppsDataSource
In my previous post we covered how to create an ADF UI that displays data from the EBS database in read-only form. In this article we will explore how you could use the Oracle E-Business Suite SDK AppsDataSource to enable access to the data from Oracle E-Business Suite to the ADF applications deployed on WLS.
The following sample uses the Oracle E-Business Suite database Vision Demo that is available from the EBS installation media.
Creating the E-Business Suite data source in WLS
The first step that we need to do is to create a data source that will be in charge of connecting the ADF applications with the E-Business suite database schema.
The E-Business Suite team has a Java SDK that has been available for some time now. Among its components are the AppsDataSource and AppsXADataSource which we can be use to enable access to the EBS APPS database schema through a much cleaner approach.
The instructions to access the Oracle E-Business Suite SDK for Java and to set up the AppsDataSource on WLS are well documented on My Oracle Support Knowledge Document 974949.1.
Once you are finished, you will have a new data source defined on WLS.
Setting up the data source on your ADF application and deploying it to WLS
In order to make use of the data source, we need to edit the configuration of the Application Module so instead of using a JDBC URL it uses a the JDBC Data Source in WLS.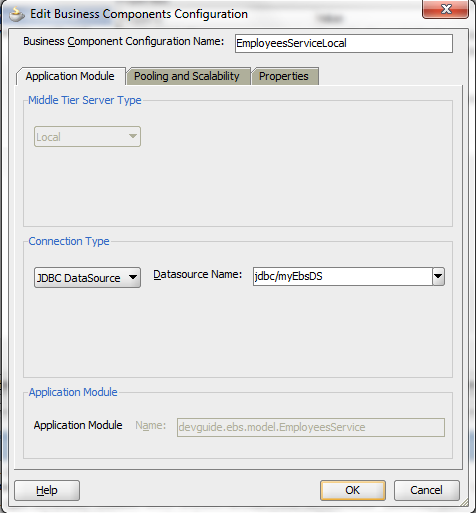 Now, before deploying the application to the WLS Server we need to make sure the EAR file doesn't include direct reference to the project's DB connection. For that we uncheck the option on the application deployment profile options.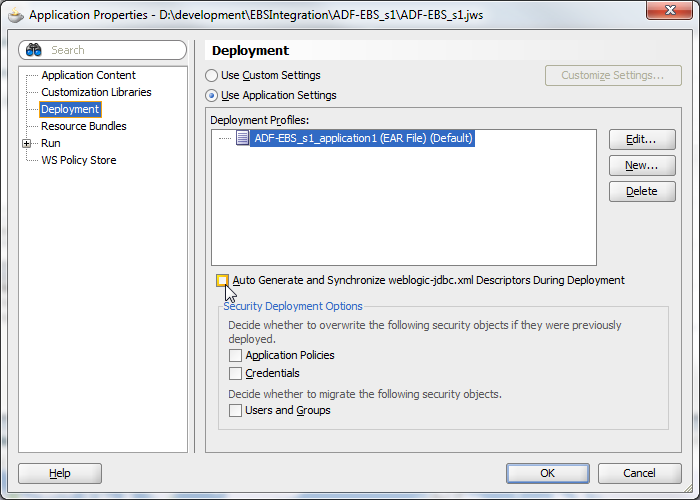 And with that we can deploy and now our application will use AppsDataSource from the EBS SDK for Java to access the DB. This way E-Business Suite administrators don't need to give away the APPS password to development teams, nor the ADF application have a reference to it.
Here a video that summarizes the entry.
Using Oracle E-Business Suite SDK for Java AppsDataSource on ADF