Debugging ADF Security in JDeveloper 11g
A quick post that can be useful when using ADF security in your application and you use external security providers like Oracle Access Manager, third party LDAP servers or even the Oracle E-Business Suite as shown in a previous post.
Many of you how are ADF developer might already now this first tip. Nonetheless, there is always the chance that it can help someone out there; the following command will enable debugging output to go directly into the server console within JDeveloper, it can be used for any ADF application: In your ViewController project properties, under run/debug/profile options edit the existing deployment profile –> inside Lunch Setting –> under Java Options add
-Djps.auth.debug=true -Djps.auth.debug.verbose=true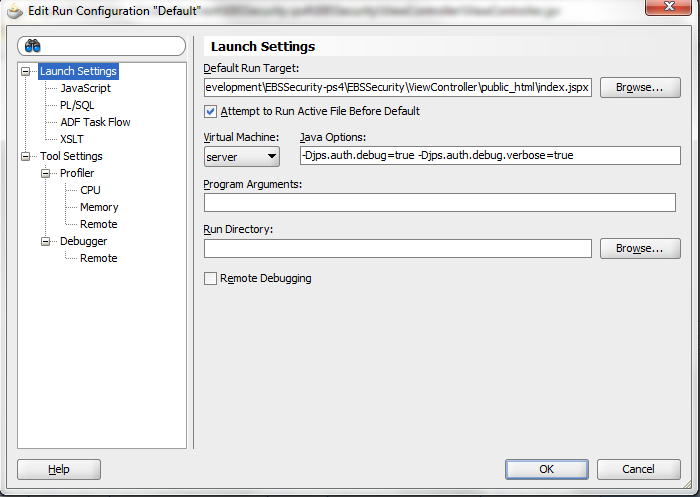 The second tip, is associated in particular with debugging security, it will provide information on user credentials and roles every time you interact with the different UI elements from your application: Under your <DOMAIN_HOME>\bin\ open the file setDomainEnv.cmd (sh) –> then add the following line:
set JAVA_OPTIONS=%JAVA_OPTIONS% -Djps.auth.debug=true -Djps.auth.debug.verbose=true
The above output is what you should obtain from an ADF application connecting to Oracle E-Business Suite.