ADF and Oracle E-Business Suite Integration Series: Displaying Read-Only EBS data on ADF
It's been a while since my last post, but it doesn't mean that projects and new discoveries were not happening…let's just say that blogging was slow, I hope to re-take it into my daily routine. Now let's get in business!
One of the areas that I've been working for the past few months is exploring the various approaches in which E-Business Suite customers can start using ADF for implementing requirements like mobile interfaces, reporting, security, etc. Through a series of entries, I'm going to cover these scenarios and hopefully get your feedback (YES, you the reader), on what additional use cases you would like to see covered in the future.
In this first article we are going to start from the basics, describing a simple, but yet very common use case: how can you display EBS data the Web 2.0 way using the ADF Faces Rich client components. The use case here would be for example if you are looking to create report that uses data visualization and a nicer look and feel to present the data.
Disclaimer: In the following sample I'm using the Oracle E-Business Suite database Vision Demo which is available from the EBS installation media.
Part 1 – Accessing the Data
Oracle E-Business Suite provides its own security implementation and various ways to access the business data through APIs and interfaces that leverage its security model. These are the preferred ways to access EBS data, and we will explore some of them on future entries.
For this use case, we are going to access the database directly using the APPS user which has access to the entire database, which is one of the reasons why you should only access the EBS as read-only. Modifying the data directly could corrupt the E-Business Suite data information and it is strongly discouraged.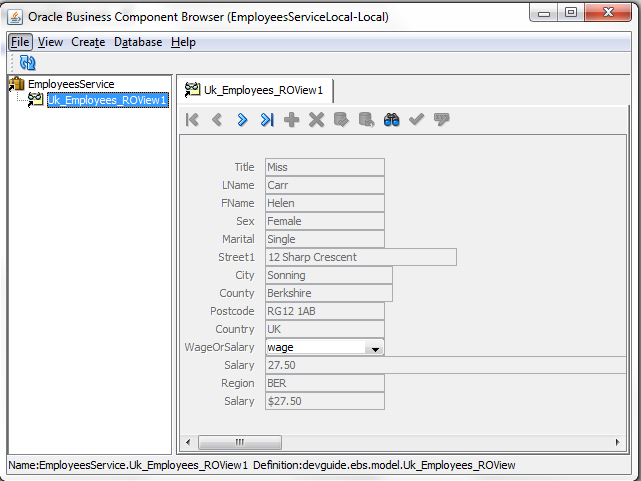 After I establish my connection to the database, I create a read-only view object that is based on a query to the database and I expose this data to the UI. Also within the view, I create a find by clause, based on a bind variable, to display the data filtering capabilities of ADF.
I can test my business model by executing the application module.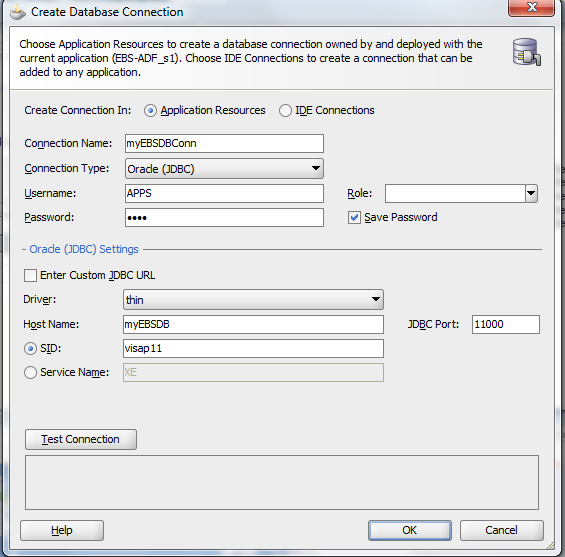 Part 2 – Creating the UI
Once I've tested my business services, I can create ADF UIs to display the data in a browser. For example, you can use the data visualization graphs to create interactive dashboards/reports, maps to display geographic data. You can even create mobile-enable pages that support multi-gesture actions for devices such as the iPad.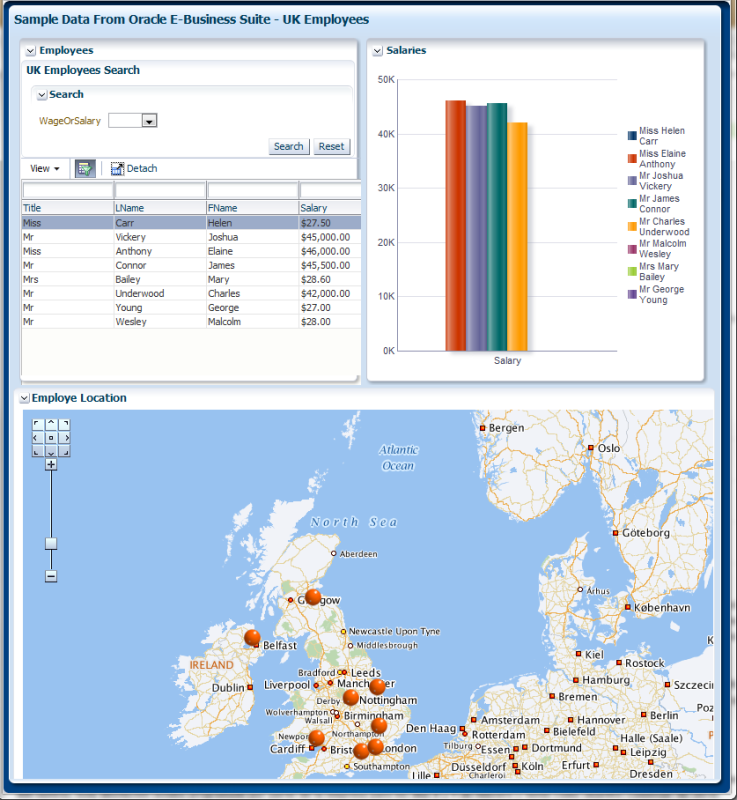 You can download the sample application from here. I leave you with a video that shows you step-by-step how to implement the above application.
Oracle ADF - E -Business Suite Integration - Database Access