Thursday Apr 13, 2006
In case you didn't know, I love cats. And so do these people:
Friday Mar 24, 2006
Been a busy week getting flogged and not doing much flogging, but this made me chuckle. Don't know if you've followed the sites that do random silly facts about Chuck Norris and Vin Diesel.
Well, turns out Chuck Norris is a hardcore Java programmer as well.
Thursday Mar 09, 2006
I'm back from a great vacation and don't feel like going throught the 957 emails I have. (We played a little game of The Price Is Right to see who could guess how many emails I had. Actually a thousand after six days vacation isn't that bad at all.) Went for three nights in Amsterdam, met up there with some friends that I haven't seen in ages. Then went down to Brussels for a few days, ate lots of mussels, drank lots of beer, and checked out a lot of Art Nouveau architecture.
The weather wasn't very pleasant (a bit colder than Prague, but it was that wet cold that goes straight to the bone) but at least it didn't rain or snow on us much. And we spent most of our time in the museums anyways. I was most excited about the Van Goghs, since I'm reading a great biography on Vincent Van Gogh. (It's the first book I've ever read in Czech, it helps that it's an English book that was translated into Czech. Still I was a bit bummed when Bohdana flew through 30 pages in the time it takes me to read 3, but oh well.) I knew about the Dutch Masters and Rembrandt but wasn't too excited about them.
Well, ho ho ho, to my surprise there's an incredible exhibition, for the 400th birthday of Rembrandt, that compares Rembrandt to Caravaggio. I absolutely love Caravaggio, and seeing all of his most famous pieces in person was worth braving the crowds. There's even one of a technical writer.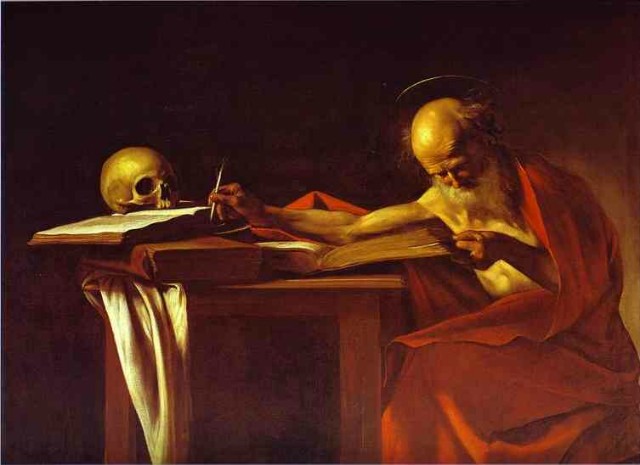 But my favorites of Caravaggio were The Taking of Christ and Amour.
But I also got a much greater appreciation for Rembrandt as well. I liked his mix of blurry outlines mixed with hyper-realist precision that give you both solid detail and the fluid feeling of motion at the time. And like Caravaggio, he's a master of dramatic lighting. As Mike pointed out, it always comes from the left!
Oh yeah, and the Van Goghs were amazing too :-)