OSCON Java: Already Great
By Tori Wieldt-Oracle on Jul 24, 2011
OSCON Java hasn't even officially started, but I can tell you it's already great.

The Community Leadership Summit was on Saturday and Sunday. Community leaders from several different types of communities (software, hardware, medical, library science, personal training, to name a few) discussed issues around building and maintaining communities. Topics included getting a community started, dealing with international communities (more than just time zone challenges), open source licensing, what is it that community managers actually do, dealing with difficult community members, how to justify your existence to upper management (KPIs, anyone?), and sexual harrassment at technical conferences and in online communities (Tim O'Rielly just posted Sexual Harassment at Technical Conferences: A Big No-No). The first day ended with some wonderful stand up comedy by Sumana Harihareswara, specifically for a techie audience ("Was anyone else disappointed to learn that the movie Source Code had nothing to do with source code?"). A big tip of the Duke's cowboy hat to the team who made CLS11 happen.

On Sunday was the OSCON JVM Language Symposium. There were lively dicussions about different languages on the Java Virtual Machine. Jeff Genender said main takeaway from the day was "It's the JVM, stupid!" Sunday evening was the speakers dinner, a time for the speakers to stop tweaking their slides and mingle. It was a great mix of old friends and new acquaintances.

Overheard at the OSCON Java Speakers Dinner

"I've noticed an uptick in demand for Java developers in the last few months."

"I've been up 40 hours straight."
"My session got accepted for JavaOne!"

"Let's get a picture of the Google, Apache and Oracle guys together!"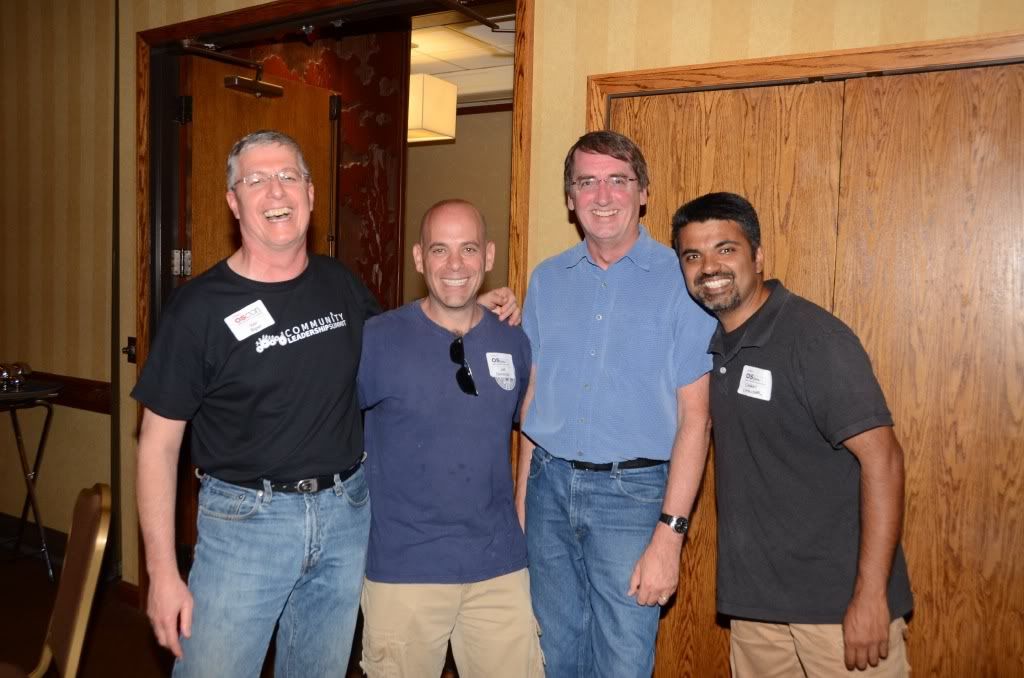 Van Riper(Google), Jeff Genender (Apache), Steve Harris (Oracle),
and Sharat Chander (Oracle) Show Their Community Spirit

and best quote of all:

"You probably don't want to start your talk with "Java sucks" at a Java Conference."

It's already started as a great conference. If you can't be here, the keynotes more will streamed live on the OSCON site. Here's Monday's schedule:

9:00am - 9:10am Welcome Laurel Ruma (O'Reilly Media, Inc.), Stephen Chin (GXS)
9:10am - 9:30am Open Source, Java, and Oracle – Cracking the Code Steve Harris (Oracle)
9:30am - 9:45am Twitter: From Ruby on Rails to the JVM Raffi Krikorian (Twitter)
9:45am - 10:00am Working Hard to Keep It Simple Martin Odersky (Typesafe)
10:00am - 10:10am JDK 7 in a Nutshell Joe Darcy (Oracle)
7:00pm - 9:00pm Ignite OSCON