By Thanos Terentes Printzios-Oracle on Oct 02, 2014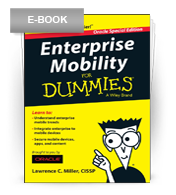 Oracle Mobile is about simplifying enterprise mobility giving customers a complete mobile solution and the choice and flexibility to develop their own unique enterprise mobile strategy. Whether you prefer turnkey mobile applications, or decide to develop and extend your existing enterprise applications, Oracle provides the platform, security and applications to meet your mobile enterprise needs.
Are you Looking for a primer on enterprise mobility?
[
Read More
]