Exadata Performance. Cloud Simplicity.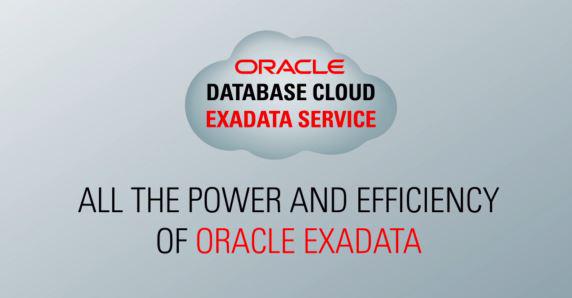 The Oracle Database Cloud - Exadata Service (Exadata Service) delivers the world's best Cloud Database Platform by combining the world's #1 database with Exadata, the most powerful database platform, and adding all the simplicity and cost effectiveness of the public cloud.
Customers can now run Oracle databases in the cloud with the same extreme performance and availability experienced by thousands of organizations deploying Exadata on-premises. Oracle databases deployed in the cloud as part of this service include all Oracle Database options and are 100% compatible with those deployed on-premises, ensuring a smooth transition to the cloud, and an efficient hybrid cloud strategy.
Exadata Service

Enables fully featured Oracle Databases (11.2.0.4 or 12.1.0.2) on Exadata – all Database Options, Enterprise Manager Packs and Exadata performance optimizations available
Full compatibility with on-premises Oracle Databases
Choose Quarter Rack, Half Rack, or Full Rack, then scale elastically
Full administrative root OS and SYSDBA access for you to manage your database
Supports OLTP / analytic / mixed workload databases at any scale
Enables consolidation, Test/Dev, proof-of-concept, certification, etc.
Secured network access; customer databases run in separate VM
Backup & recovery to Exadata or Oracle Database Backup Service
Server, storage, networking infrastructure managed by Oracle
Learn More
Oracle Database Cloud - Exadata Service Rapid Provisioning Demo
Data Sheet: Oracle Database Cloud – Exadata Service
Free Trial: Oracle Database Cloud - Exadata Service