Thursday Nov 12, 2015
By Christine Friscic-Oracle on Nov 12, 2015
Oracle Service Cloud Advanced Knowledge Enhancements Help Organizations Reap the Benefits of the Cloud, While Improving Customer Experiences and Reducing Support Costs.
By Nav Chakravarti, Vice President, Product Management, Oracle Knowledge Management

Oracle announces the release of Oracle Service Cloud Knowledge Advanced. The Knowledge Advanced edition leverages key capabilities from our best-in-class knowledge management solution, Oracle Knowledge Enterprise (formerly InQuira). Oracle Service Cloud Knowledge Advanced brings key capabilities of Oracle Knowledge Enterprise to the cloud, offering our customers a robust set of features and capabilities in the cloud, with simpler administration, and a lower cost of ownership.
Just like Knowledge Foundation, Knowledge Advanced is fully integrated into Oracle Service Cloud, enabling organizations worldwide to effectively create and refine their knowledge assets to deliver a seamless cross-channel customer experience in over 30 languages for both end customers and contact center agents.
Oracle Service Cloud Knowledge Advanced delivers rich capabilities including highly accurate search using natural language processing and self-learning algorithms, flexible authoring and workflow, rich analytics and customizable self-service and agent-facing knowledge applications.
Some other key capabilities of Knowledge Advanced include:
Fine grained control over search results with Intents + Industry Dictionaries, Machine Learning and Search Tuning with Impact Analysis

Federated search (External Content Crawling (HTTP)) and Deep Search (excerpts from within Documents (word, PDF) )

Advanced Authoring with Configurable Answer Templates and Versioning (Version control, Audit, Comparisons)

Expanded Language Capabilities with Cross-Lingual Search (search in one language and find answers in other languages) and Full NLP (Natural Language Processing) Dictionaries in over 30 Languages
Additionally Knowledge Advanced brings new knowledge functionality within the Agent Desktop and Customer Portal. Several new capabilities have been introduced to Agent Desktop including a quick tool window, favorites, the ability to link and unlink answers, faceted search, and intent based search results. The Intents feature introduced allows agents to quickly find the most relevant answers for common queries. The subscription feature is designed to improve the knowledge experience for agents by tracking changes to their favorite articles.
Knowledge Advanced for Customer Portal also introduces new functionality including a set of new widgets to expose the advanced capabilities. The new design and styling is compliant with Oracle Service Cloud style and allows for greater extensibility. Intents, allows administrators to tie together requests for information that are not always linguistically connected, to push a specific article or articles to the top of the search results. Answer highlighting enables users to quickly navigate and find answers even when searching within large documents such as PDF files or Word documents.
To learn more about Oracle Service Cloud Knowledge Advanced please read the news release or check out the detailed Oracle Service Cloud Knowledge Advanced data sheet!
Thursday Oct 29, 2015
By Christine Friscic-Oracle on Oct 29, 2015
By Jeff Lundal, Group Vice President, Oracle Service Cloud
When was the last time you thought, "Wow – that company really treated me like a star?" When was the last time you were blown away by brilliant service – and inspired to better your own? Prepare to make that day now, and make everlasting memories, as we bring our unique roadshow – the Oracle Service Cloud Tour – to your city.
So, why unique? Well, conferences can be great. Keynote speakers are often insightful. Breakout sessions may seem enlightening. But sometimes, the best way to learn is by doing… seeing, feeling and being a part of the action.
The Oracle Service Cloud Tour is less about being instructed by others, and more about enjoying remarkable customer experiences yourself – the Oracle way. It's about networking with likeminded professionals, and service leaders rubbing shoulders with some of the country's most renowned celebrities. It's about dining, spectating and laughing. It's about being inspired to pass on those once-in-a-lifetime moments to your customers and clients.
Entirely exclusive, and by invitation only, the events hosted throughout the Oracle Service Cloud Tour will be attended by a handful of carefully selected customer service leaders – as well as a different celebrity in each city, from legendary chef and TV personality Ming Tsai in Boston to NFL Pro Joe Montana in Santa Clara and aerobatic pilot Sean Tucker in Washington.
Breaking down the barriers of your standard symposium, the tour's events will feature no classrooms, no lecture halls and no presentations. Instead, they'll take place in some of the nation's most incredible venues – in a relaxed, informal setting – boasting awesome activities and the opportunity for guests to hang out with their heroes.
For further details, and to see which celebrity is appearing in your city, click here.
Friday Oct 23, 2015
By Christine Friscic-Oracle on Oct 23, 2015
By Yuval Brisker, VP of Product Management, Oracle Field Service Cloud
Almost four years ago, TOA Technologies and DISH Network announced an important milestone. Together, the two companies completed the largest deployment of a SaaS mobile workforce management solution ever, deploying TOA's ETAdirect to over 14,000 field technicians across the United States in less than four months from the beginning of deployment. DISH had selected TOA as the first part of a strategic initiative to transform its technology and business processes with the goal of putting the customer at the center of the service experience.
As one of the largest pay-TV providers in the United States, DISH was looking to leverage technology in new ways to enhance efficiency in its operations and improve the bottom line, while improving customer satisfaction. DISH decided a technology revamp was in order – upgrading many of its back-end systems, including its billing solution, and for the first time, deploying a complete field service management software solution.

This initiative went beyond driving operational efficiencies, to re-aligning the business focus. With over 14 million subscribers in all 50 U.S. states, DISH wanted to make sure that this technology transformation would have a deep, positive impact on the customer experience. In fact, one of the main reasons that DISH selected OFSC/TOA was because it was not just about increasing efficiencies to reduce operational cost, but also about personalizing the customer experience. With the OFSC/TOA solution, DISH automatically provides more precise appointment start times and proactively communicates appointment status updates via customers' preferred communications channels.
DISH partnered with TOA, which has since been acquired by Oracle and is now known as Oracle Field Service Cloud (OFSC), to dramatically consolidate its field service operations, reducing back-office headcount and streamlining planning and field service operations management. The natively SaaS OFSC/TOA solution allowed the company to automate and optimize the management of its entire hybrid field workforce – both in-house and contracted resources, as well as partners – within one central solution providing advanced booking, capacity management, job assignment, routing and scheduling capabilities. Using OFSC/TOA's unique patented, time-based and predictive solution, DISH was able to significantly boost operational efficiency and free up its back-office staff to focus primarily on managing exceptions. The company was also able to increase job completion rates, reduce drive time, and align the technology that DISH employees use to do their work with customers with the most state-of-the-art tools available today.

DISH's field service management transformation with Oracle Field Service Cloud has resulted in significant improvements, both in terms of operational efficiency and customer satisfaction. Some of the key results achieved by DISH include:

15% increase in technician productivity

75% reduction in planning and dispatch staff

40% reduction in calls into the contact center asking, "Where's my tech?"

55% reduction in technician overtime

10% reduction in miles driven

Increased on-time arrival to 91%
Learn more about DISH's journey to becoming a modern field service leader and its challenges and solutions along the way at Oracle OpenWorld 2015. Join Erik Carlson, EVP of Operations at DISH, and Yuval Brisker, VP of Product Management for Oracle Field Service Cloud, when they will discuss Dish's journey with Oracle Field Sevice Cloud/TOA transforming field service operations. The session, titled Get Ahead: Transform Field Operations – DISH and Oracle Field Service Cloud will be held on Tuesday, Oct. 27th at 4:00 p.m. in Moscone West – 2016.
Find more information, or register for our session here.
Tuesday Oct 20, 2015
By Christine Friscic-Oracle on Oct 20, 2015
Outstanding service is still the top reason customers recommend a business. And the Oracle Service Cloud team is excited to once again join the Oracle OpenWorld 2015 customer experience (CX) activities to talk about how to deliver outstanding service anywhere, anytime to today's customers. The team is hosting more than 20 sessions on how to differentiate your brand by unifying web, social, contact-center and field service experiences to help develop lasting, profitable customer relationships. Please join us in San Francisco, October 25th-29th in Moscone West, on the 2nd floor to:
Discover how to engage with customers by using live chat, co-browse, social, web, mobile and field service to provide personalized, reliable, and adaptive service, delivering the right answers at the right time.
Learn about the latest that Oracle Service Cloud offers including updates to advanced knowledge capabilities and how integration with sales, marketing, and commerce applications can help differentiate your brand with modern customer service.
OpenWorld 2015 attendees will also gain access to discussions on pressing service industry trends with analyst thought leaders such as Kate Leggett of Forrester Research. In addition to in depth service solution demos and best practices, attendees will be able to gather insights into upcoming Oracle Service Cloud product strategy. All of the sessions are designed to help drive continual business value for service professionals by simply outlining how to get going, get better, and get ahead with innovative customer service. For more information about CX Central and to attend this year's valuable Oracle Service Cloud sessions, please visit and register here.
Wednesday Oct 07, 2015
In order to compete in the worldwide economy, businesses use unique product innovation, marketing strategies, and sales processes – called differentiators – to win orders. While businesses understand the importance of their differentiators, they often find it challenging to target potential customers with a personalized message. CPQ (Configure, Price, Quote) is a technology that incorporates differentiators in product, pricing, and marketing strategy to allow companies to create quotes with personalized messages and targeted value. Through sending personalized messages to its target audiences, CPQ helps businesses win more orders.
Take, for example, a fictional custom machinery manufacturer, TechMech. TechMech fully customizes their products to meet specific and complex requirements that differ from deal to deal. Each custom order is approved by an engineer, who determines if the order is physically feasible. The TechMech product customization process is different from their competitors; some competitors offer standard packages at lower prices, while others have assembled options with limited customization. To showcase their differentiators, TechMech needs a CPQ solution that restricts salespeople from not only creating machinery that is physically impossible to manufacture, but also clearly communicates the product's differentiators to its target audience through its quotes.
Take another fictional company, Precious Metals, Inc. Precious Metals, Inc. sells large amounts of gold and silver. Precious Metals differentiates itself from competitors by constantly updating prices in order to match trading price levels on the stock market. To accommodate this differentiator, Precious Metals, Inc. not only needs a CPQ system that has a flexible, yet precise, pricing system to accommodate their policies, but one that also provides context for these policies to its target audience through its quotes.
CPQ technology is able to deliver a personalized message to customers because CPQ houses many of these differentiators. The Configuration (the "C" within "CPQ" ) and Pricing (the "P") components of CPQ help add clarity and context on product and pricing differentiators. Quote packages (the "Q") then tailor specific marketing messages based on the customer's solution and needs. Since CPQ automates this process, it allows for administrative oversight and rigor of the delivery mechanism.
At Oracle, we know that CPQ delivers true value in helping our customers win more orders. With over 400 successful Oracle CPQ Cloud implementations, we have proved to consistently deliver the greatest return on investment in the industry. If you want your marketing messages to reflect what makes your business special, then Oracle CPQ Cloud is for you.

Wednesday Sep 30, 2015
Let's face it. You're busy. You don't have time to visit several different websites to research the latest customer service and support trends. You need one place to go where you can find information on topics like how to: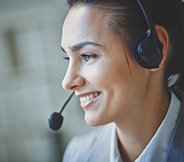 Engage customers online with seamless web and social self-service
Empower contact center agents to deliver personal, omni-channel support
Equip field service techs to arrive on schedule and fix it right the first time
You're in luck! For the next week, all that information can be found on this microsite. Everything from how-to guides to customer case studies to side-by-side vendor comparsions. All right here for you -- in one convenient place.
Visit the microsite today so you can deliver modern customer service to every customer, every time!


Wednesday Sep 23, 2015
What do you know about Oracle Service Cloud? You may have heard it delivers complete, out-of-the-box customer service. Or that it enables lasting, profitable customer relationships by delivering unified web, social and contact center experiences.
But that 'marketing speak' only gets you so far… To really understand what Oracle Service Cloud can do for your business, you have to take a test drive. Get behind the steering wheel and try out its capabilities.
Oracle Service Cloud's Quick Tour Demo puts you in the driver's seat. Click here to see firsthand how Oracle's Web Customer Service can help you deliver the very best customer experience (CX)—while lowering costs and increasing conversions.
Choose 'Show Me' if you want a chauffeured experience. Or 'Try It' to navigate for yourself.
Want to see more? Then Sign up for a live demo customized to your needs.
Tuesday Sep 22, 2015
By Christine Friscic-Oracle on Sep 22, 2015
By Christine Randle, Analyst Relations, Oracle Service Cloud

Last week Gartner held its annual Gartner Customer 360 Summit in San Diego. The event is well-worth attending and this year was no exception. The theme: "Delivering Great Customer Experiences at the Speed of Digital Business" had an agenda packed with both strategic and tactical content from leading analysts like Michael Maoz, Olive Huang and Jim Davies (just to name a few) to help attendees build powerful Customer Experience (CX) programs.
Oracle was onsite, and we were thrilled to have two of our marquee customers presenting at the event. BeachBody's Louis Ross was on hand to share details about how the company has designed an agile customer-centric strategy for its over 16 million customers and 200,000 coaches that delivers seamless and personalized experiences.
And not only did LinkedIn's Andy Yasutake present at the event, but he and his team of masterful customer operations professionals won a Gartner and 1to1 Media Customer Excellence Award for Innovation in Service!
Now, we've all heard of LinkedIn (unless you live under a rock), but what you may not know about is the company's 'Members First' initiative (Hint: this is why they won the Gartner and 1to1 award). This program was developed by some seriously smart people at LinkedIn who are dedicated to delivering stellar member experiences to folks just like you! I mean, you're a LinkedIn member, right?
So what is 'Members First'? LinkedIn developed this program after recognizing the need to put more focus on its member community. So the company partnered with Oracle Service Cloud to develop a program built on the well-established trinity of people, process, and technology. The goal: To boost member engagement and satisfaction across the globe.
The LinkedIn support team had been servicing members using reactive, manual processes, resulting in siloed data that was difficult to analyze and act on. As member growth exploded, Andy and his team realized that this approach was no longer sustainable and sprang into action, standing up its Global Customer Operations (GCO) team and developing four pillars for success: Prevention, deflection, efficiency, and adding value. Importantly, the program established a means for LinkedIn to actively listen to members' direct and indirect feedback, identifying key trends and service gaps. This proactive approach allows the team to hone in on the most pressing issues both quickly and precisely.
And it's working! With an 85% decrease in average initial response times and a 68% decrease in average resolution times, LinkedIn has achieved an impressive 23% increase in its CSAT scores, up from 6.6 to 8.1. Not too shabby!
Congratulations LinkedIn! This is a shining example of what happens when an organization lives and breathes customer experience. For a more in-depth look at this award winning 'Members First' initiative, check out LinkedIn's presentation from Gartner Customer 360. It's chock full of real-world advice that you can leverage in your own organization. Need more? For added detail on exactly why LinkedIn is a leader in customer excellence, read the 1to1 Media article about the program. Then tell us how you plan to disrupt and deliver your own stellar customer or member experiences!
Monday Sep 21, 2015
Many businesses today are at some stage of their journey to delivering an optimal, differentiated Customer Experience (CX), with the vision of building sustainable growth and profits through stronger customer relationships and reliable business data. Getting a vision around the "what" you want to deliver is not easy. The next question is even harder: "How" to build, deliver and grow to reach your visionary state?
In this 3-part CustomerThink webcast series, CX thought leaders Kate Leggett (Forrester), Ray Wang (Constellation Research) and Bruce Temkin (Temkin Group) will guide you through the Roadmap to Modern Customer Service. They will help you:
Benchmark where you are in your industry
Identify the issues you need to solve and in what order
Invest in technologies that best meet your goals
Incrementally measure your success along the way
First Webcast: Get Going with Modern Customer Service
Thursday, Oct. 15, 10-11 am PT / 1-2 pm ET
Join Kate Leggett and JP Saunders as they discuss the first stage of the Roadmap to Modern Customer Service: Get Going. At this initial stage, organizations focus on moving from limited silo channels, to multiple channels of choice, so customers can engage on any device. They invest in channels and knowledge to improve interaction capabilities and reduce service volume and cost through greater operational efficiency.
Second Webcast: Get Better with Modern Customer Service

Thursday, Nov. 12, 10-11 am PT / 1-2 pm ET
Join Ray Wang and JP Saunders as they discuss the second stage of the Roadmap to Modern Customer Service: Get Better. At this next stage, organizations focus on transitioning from silo systems, to a unified platform that enables agents to deliver consistent, relevant, cross-channel service. Here they invest in contact center staff and processes to improve service quality, customer satisfaction and customer retention—leveraging the savings they've gained from the first stage.
Third Webcast: Get Ahead with Modern Customer Service
Thursday, Dec. 10, 10-11 am PT / 1-2 pm ET

Join Bruce Temkin and JP Saunders as they discuss the third stage of the Roadmap to Modern Customer Service: Get Ahead. At this advanced stage, organizations focus on evolving from anonymous service experiences to personalized, segmented engagements in every channel. They invest in data and analytics to create more opportunities for acquiring new customers at lower cost, and for expanding their relationships with brand advocates. This ability to monetize engagements enables companies to achieve sustainable growth and profits.

At the end of this series, you will come away knowing what to focus on, and how to measure your success—so you can start modernizing your customer service capabilities with a self-funding model right away!
Speaker Biographies
Kate Leggett, Principal Analyst, Forrester Research
Kate serves Application Development & Delivery Professionals. She is a leading expert on customer relationship management (CRM) and customer service strategies, maturity, benchmarking, governance, and ROI. Kate has extensive industry experience, with more than 10 years of leadership at CRM and customer service software companies, where she held senior product marketing and product management roles.

R "Ray" Wang, Principal Analyst and Founder, Constellation Research
R "Ray" Wang is the author of the popular business strategy and technology blog "A Software Insider's Point of View". With viewership in the 10's of millions of page views a year, his blog provides insight into how disruptive technologies and new business models such as digital transformation impact brands, enterprises, and organizations.

Bruce Temkin, CCXP, Managing Partner & Customer Experience Transformist, Temkin Group
Bruce Temkin is widely viewed as a customer experience visionary. He has worked with hundreds of large organizations on defining and accelerating their customer experience journeys. His company, Temkin Group, is a leading research and consultancy focused on enterprise-wide customer experience transformation. It helps many of the world's largest brands lead their transformational journeys towards customer-centricity and build loyalty by engaging the hearts and minds of their customers, employees, and partners.

JP Saunders, Senior Director, CX Strategists, Oracle (Host)

In his current capacity, JP leads the go-to-market initiatives for the Oracle CX Cloud Service offering. A recognized thought leader, innovator and strategist, JP has over 16 years experience in SaaS, Customer Service, Customer Experience and CRM application development. JP joined Oracle through the RightNow acquisition where he led the Global Product Marketing team. Prior to that, JP lead Product Management for a Social CRM startup that was part of the Oracle Inner Circle partner.
About
The place to get informed about customer experience and how it impacts your success.


Stay Connected
Subscribe
Subscribe
to our RSS feed.
Categories