Let's face it. You're busy. You don't have time to visit several different websites to research the latest customer service and support trends. You need one place to go where you can find information on topics like how to: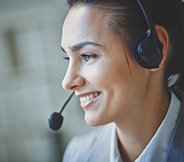 Engage customers online with seamless web and social self-service
Empower contact center agents to deliver personal, omni-channel support
Equip field service techs to arrive on schedule and fix it right the first time
You're in luck! For the next week, all that information can be found on this microsite. Everything from how-to guides to customer case studies to side-by-side vendor comparsions. All right here for you -- in one convenient place.
Visit the microsite today so you can deliver modern customer service to every customer, every time!