Jfokus in Stockholm Feb 4-6 is a fantastic experience if you're even close to the world of Java or a JVM. Internationally recognized speakers, interesting companies in the exhibition, tutorials, presentations and great people to mingle with. If you're attending for the first time, the massive program might be overwhelming, so I've put together a top ten list of my favorite topics, things you can do at Jfokus - see you there!

Get to Know Your Application and Make it Behave!
This year, you'll get both Java 8 with Lambda features and new Date and Time - but if your application is executed in a performance sensitive environment, you'll definitely want to attend the session with Klara Ward from the Java Mission Control development team, presenting the monitoring application that will be distributed in the JDK.

Pair Klara's session with one of Kirk Pepperdine's, to find out what to do with the data from Java Mission Control. His performance presentation together with Java performance engineer Alexey Shipilev was voted top three sessions at Devoxx a couple of months back. During University day, learn his Performance Optimization Methodology or visit his presentation Wed to learn to listen to what your GC logs say to you.


Java Community Corner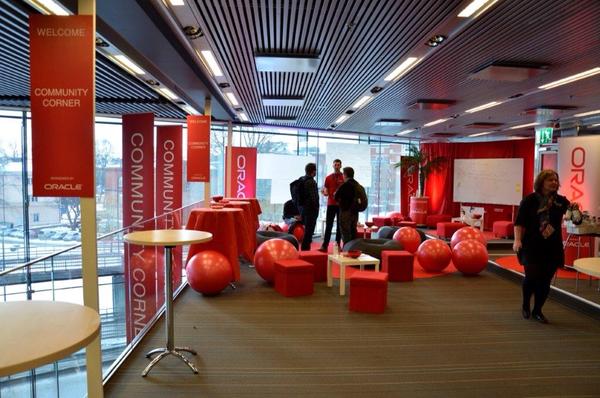 Hang out in the Java Community Corner, enter the Raspberry Pi raffle and charge your laptop. Meet both the Oracle presenters and engineers working at the local Java development office at Münchenbryggeriet in Stockholm. (Just across the water from Jfokus!) There will be a scheduled posted for when each engineer will be there.


Contribute to Java
The Java Community Process sets the Java Standard, what Java is and what it isn't. The OpenJDK is the open source project where the specification is implemented in, e.g. Java 7, Java 8, Java 9 etc. Meet Heather VanCura managing the JCP office and learn how the JCP works - if you ever have wanted to change something with Java - attend this session!!

Tues evening, you'll meet me, Heather Van Cura and JCP EC and JUG leader Martijn Verburg to find out more how you can contribute to Java, both the specification and the future implementations! Learn how to participate in the JUG initiatives Adopt-a-JSR and Adopt-OpenJDK.

Discuss the Java Strategy
Want to know the current direction of Java? Listen to Georges Saab, VP of development doing the keynote on Making the Future Java - Together and Mark Reinhold, chief architect of Java talk about Java 8, Java 9 and beyond. You will meet them afterwards in the Java Community Corner to discuss your own ideas for Java :)


Open Source Hackergarten
Andres Almiray is arranging an open source Hackergarten starting Monday during the University day and will continue over Tuesday. Bring your favorite open source project and hack along with others. Creativity and engagement will go through the roof!


Embedded and Raspberry Pi

Glad to see a focused sub-conference on the Internet of Things at Jfokus Embedded. Joakim Eriksson from Swedish Institute of Computer Science will lead a qualified discussion on the topic at the Opportunities and Challenges with Embedded & Internet of Things BOF. Java has support for Raspberry Pi, making it easy for any developer to write embedded application. Terrence Barr will talk and show demos on the how Java fits into the Internet of Things.
Visit the Oracle embedded booth to meet Oracle embedded evangelists Simon Ritter, Stephen Chin and Terrence Barr showing demos and discussing embedded - and of course to enter the Raspberry Pi raffle (You wantz one, yes you do :). Stephen Chin will do one of his NightHacking sessions on Raspberry Pi, will be fun for sure!

Continuous Integration

Get fast feedback on how your latest changes affected the quality of your product, get the ability to release daily or even several times a day. Discussing best practices around continuous integration can affect your development process in ways you never imagined. There are several presentation and then join the discussion on Build, Test, Deploy and Automation to see if you can take anything to your project!

Get a Laugh with the Java Posse
You might not have heard their eight year old, still ongoing podcast show (currently 406 episodes!), but you'll still get a laugh with some nerd humor from the four guys in the Java Posse. Don't miss the opportunity at Tues 4.30pm [blog update] 6.30pm as they visit Sweden at Jfokus!!!

James Gosling - Meet the Father of Java
James Gosling has engaged in some truly interesting projects concerning programming autonomous robots doing work at sea. Whether or not interested in the topic (it is very visual and engaging!), visit his session, just to have been in the same room with the father of Java :) [blog update] Gosling will be streamed from the US!

Succeeding with Software Development
Software development is both learning the technology and then getting an approach to turn it into a successful software development project, often with the collaboration from many. Martijn Verburg and Ben Evans, famous thought leaders of the Java community, leaders of the London Java User Group and also part of the Java Community Process Executive Committee will give a talk on Modern Software Development Anti-Patterns. I tried to get in to the session at Devoxx and failed, make sure to arrive on time!
Listen to Thomas Sundberg's concrete presentation on how to fail a software project fast and easy and draw your own conclusions :)