Java leads in SemWeb Tools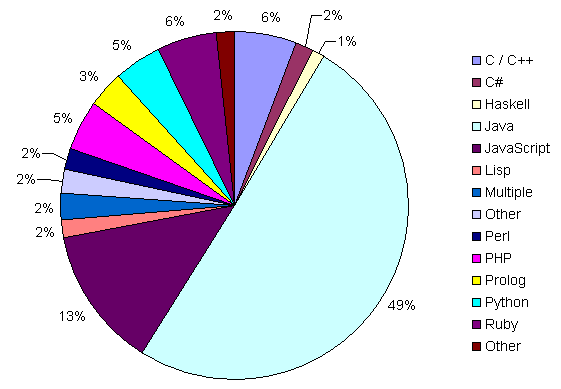 According to Michael Bergman's excellent SemWeb Tools Survey Java is used in 49% of the 500 tools developed for the Semantic Web. A distant second is JavaScript with 13% coverage.
As a long time Java Developer (I went to the first Java One Conference in 1996), this is great confirmation of my initial choice. The energy I have invested in learning Java and its libraries has been amply rewarded. And now with Java being GPLed I feel comfortable that no one will ever be excluded from joining this great community, that these investments are safe, and that great things will be built thereupon.
Part of the reason for Java's success here is that it has delivered on its "write once run everywhere" promise whilst attaining absolutely stunning levels of efficiency. As Jonathan Rentzsch argued so well in Programmers Don't Like to Code, we just want to solve problems. The idea of having to debug something for every other platform feels like a huge waste of energy. Java is therefore a natural choice: a lot more can be done there, a lot larger audience can be reached, with a lot less work.
The Semantic Web is language and platform neutral though, and as the tools survey shows every platform in existence now has a hook into it.
One of my favorite tools is the python based cwm.py, which I use every day to read and query rdf files, and that contains a powerful N3 based rules engine which is pointing to the next step in the development of the Semantic Web.
Another very interesting tool I came across recently is the Lisp based 64bit RDF data store AllegroGraph by Franz. Lisp was perhaps my other favorite language, and I can never completely forget the amazing Lisp machines I saw in the early 80ies which came with color A4 screens which I saw display rotating three dimensional texture mapped spheres on in real time.
But to tell the truth, I think I only know a small fraction of all the tools listed by Michael. There is something for everyone there, and more than any one person can digest. (Unless your name is Michael Bergman :-)