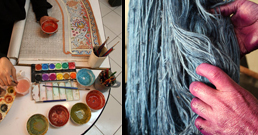 A friend sent me a link to an interesting video report on a ceramic exhibition by Iranian women artists posted on Jadid ("new") Online. (Interviewees in the report speak in Persian but you can read the English subtitles which provide pretty good translation.)
Jadid Online's report on carpets by the late Iranian artist, Abolfath Rassam-Arabzadeh, contains an amazing display of his works described by his daughter, Zhila, with a sneak view into the museum and workshop built in his honor in Tehran.
Apparently, a Japanese museum had once offered $11 million for one of Arabzadeh's works containing several scenes from Persian poet Ferdowsi's Shahnameh.